TEXARKANA, Ark. – See colorful styles on Saturday when the Texarkana Museums System continues a year-long celebration of its 50th anniversary with a retro fashion show.
Starting at 2 p.m. at the PJ Ahern Home, models will sport the iconic looks so memorable from the 1970s, ranging from bell bottoms to prairie dresses and more, with an event billed as "From Jumpsuits to Polyester."
Last weekend's Ace of Clubs dance party, Boogie Fever: 1971, has been postponed due to weather. It will also be held on Saturday but in the evening from 7 p.m.
Therefore, Saturday's fashion show is one of many 1971-themed events organized by TMS. Most of the outfits are from the Museum System Clothing Collection, but some will be featured courtesy of local collectors and vintage clothing enthusiasts.
"Some of the best pieces we have for the show were borrowed from Tonia Chambers, who is building a vintage clothing business," TMS curator Jamie Simmons explained in a statement. "Jaslyn Ebron, Tika Rowe and Isabella Rowe are vintage clothing enthusiasts who will be modeling some of the clothes from their own collections. It's a wonderfully eclectic mix of styles that really speaks to the individuality that defined the decade, all in the context of the historic interiors of Ahern Home."
Additionally, former model Carol Collins-Miles, who worked for Hubert de Givenchy and other designers in Paris, France, will serve as a guest model.
Photo by William Harvey
David Mitchell, left, and Lowell Myers fish from a boat on the Little Red River outside of Heber Springs.
Models will showcase these fashions on the first floor of the 1905 neo-classical mansion on the Arkansas side. In an interview, Simmons said the volunteer models would walk by as if it were a real fashion show.
Velvet Cool, Chairman of the Board of TMS, will introduce designs and provide information on outfits, many of which have been added to the TMS collection over time.
"They were donated by various people over the years. We have pieces that Cornelia DeWoody gave to us before she passed. She was quite well known here in town for her vintage clothing collection," Simmons said, noting that the fabrics double mesh were popular in the 70s.
"A lot of clothes at the time were innovative because of the fabrics they developed and the ease with which they could be worn and cared for," Simmons said. "Also, the colors you find in this era."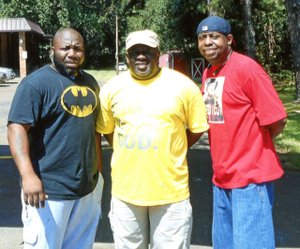 Even today, these vibrant colors are exceptional, she said. From time to time, these vintage clothes come back in popularity.
"We're in one of those times right now where vintage clothing is really popular," Simmons said. The show will include 70s-themed refreshments that will be served to guests participating in this TMS fundraiser.
Chambers is preparing a space to sell his vintage clothes and other vintage items at Caveman Consignment Co., owned by Robert Pynes, on New Boston Road.
"It's what he calls the Betty and Wilma section of the cave," she said. "There's all the girl's stuff in there."
She views the developing space as a living room and a retro living room. She considers herself a vintage lifestyle coach. "I've done a few people's living rooms. I've done people's flea market stalls, stuff like that," said Chambers, a self-proclaimed high school "hippie art chick" and art student. at University.
Her resurgent interest in flea markets, estate sales, antiques and vintage clothing has recently connected her to the local community of pickers and salvagers. She is a researcher, always on the lookout for vintage styles.
"I rarely wear more than three or four times because my outfits are $2, $3, $4, $5 maybe," said Chambers, who will also be modeling at the show, along with her daughter Eleanor.
She lends a bunch of her vintage clothes to the fashion show, around 80 pieces: business dresses, go-go dresses and more.
"I have a lot of long dresses, very long polyester long dresses. Some of them are bright colors. Some of them are plain with the little belt at the top, the empire waist kind of. between them have this prairie feel," Chambers said, noting that the '70s was a decade of transition, a mix of fashions.
She sees a connection between TMS's mission and her interest in vintage clothing.
"The reason I do what I do is to preserve history," Chambers said.
(Admission is $5 per person, free to TMS. Reservations required. Tickets may be available at the door but seating is limited. For more information or to purchase tickets, call 903-793 -4831 or visit TexarkanaMuseums.org/Events PJ Ahern Home is located at 403 Laurel Street)